For some time, I've been wanting to travel with Abel and Lefard after hearing much about their villages. We finally decided to go on Friday and leave Livingstone at 6h00 when the two boys knock off work as our night watchmen. Lefard called on my cell at 6h30 to wake me. We had a quick coffee and headed out together but not before stopping at the Arts Cafe to pick up a box of school supplies and clothes which I thought might be donated to their families once we arrived.
The new paved road to Lusaka got us to Zimba within 45 minutes where we stopped at the Zimba market and bought a big bag of lollypops for any children I might find when we arrived in the village. The road now turned into a series of short smooth sections between massive potholes. The next 30km took over an hour and fifteen minutes. Abel's home was closest so we turned off onto a footpath and followed it for another 12 km through the bush and arrived successfully.
I got to meet several of Abel's brothers who are still farming in the area as well as his father who is 74 years old, the father's two wives and the host of younger siblings. We sat on small stools and chairs under a tree and shared stories. When we walked back to the vehicle, Abel's dad took my hand and thanked me for giving Abel a job. Men and women walking hand in hand is a common site here in Zambia and it creates a warm feeling of friendship. Mr. Chinkusy also told Abel  to work hard and be honest.
Abel's mother prepared a bag of groundnuts for me and an even larger bag for Abel. We shared a drink of home-made brew from maize and were about to leave when a chicken jumped from the back of the truck into the back seat. Seems they had also given me a chicken. I was happy to leave some nice clothes which would fit the adults and children along with some chalk, pencils, paper, etc.
It is interesting to ask Lefard and Abel "how much further" and always be told "not very far". This is the perspective of two young men who have walked long distances just to and from school everyday. Abel's home is 11km from school and Lefard's is only 5km. To them it really isn't far when driving.
From Abel's small settlement of mud huts and small shelters made from home-made clay bricks we drove back out to the main road, turned further east and arrived at the school where Abel and Lefard attended high school. I was introduced to the headmaster while Abel and Lefard ran around greeting old friends. After leaving a box of school supplies we drove around some of the school building to a path which Lefard said would lead to his home. There was no road and the path took us into the bush where we had to squeeze between trees and across maize fields which was incredibly bumpy. Large depressions in the path also had to be avoided and after about 3 km we could go no further. We parked the vehicle and hiked the remaining 3 km.
Lefard's father also has two wives. Lefard is the third born and has siblings as young as two years old. His mother cut open a fresh watermelon for us to share and prepared a bag of fruit which is only found in the bush. I can't remember the name but they look a bit like a raisin.  There is actually very little of the fruit as they are mostly just seed. However, when I shared some of these with people back at the Arts Cafe they were surprised that I had them and asked where I got them because they are considered a treat not available in the city.
The lollypops were a big hit with the children as well as the adults and again it was nice to be able to leave some clothes and school supplies. On the hike back to where we left the truck, Abel and Lefard carried a 50kg bag of ground maize and we were followed by the entire family including Lefard's 91 year old great grandfather who is still quite strong.
Lefard's grandfather gave Lefard a similar speech about being honest and being happy that Lefard had a 'good' man as a boss. I know he meant 'good white man' and I couldn't imagine how much horrible treatment Lefard's great grandfather might have endured during the colonial days.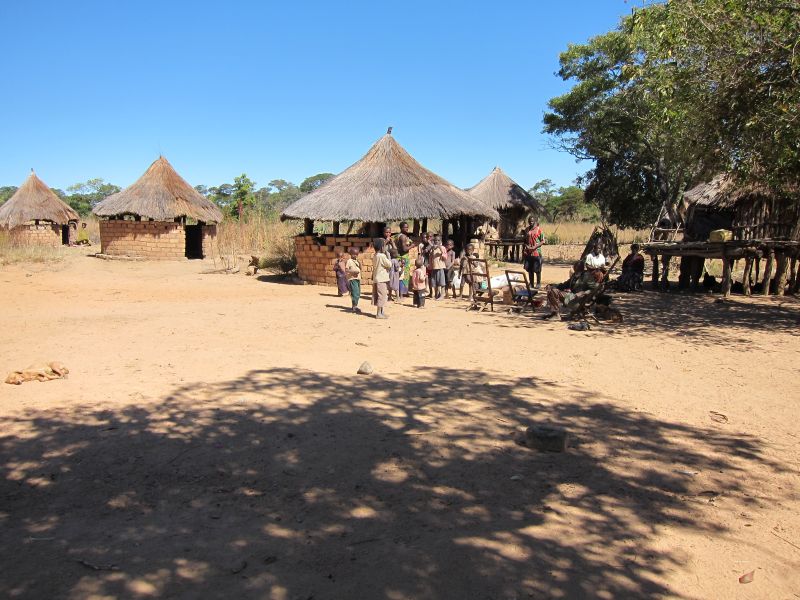 The trip into the bush to Lefard's had been a tricky one and I wasn't looking forward to the return. As it turns out, I had good reason to be nervous. Still well back in the bush I hit a rock buried in the grass on the side of the path we were following. Even though we were traveling at a slow speed the left front tire hit it with a terrible force lifting the vehicle into the air and bringing it down hard with the rock lodged under the front passenger door. Without any hesitation, I quickly reversed, listened as the rock scraped the metal beneath the truck and watched a cloud of vapour rize up in front of me. The Pajero was still running so we swerved around the rock and continued knowing full well we had done some serious damage.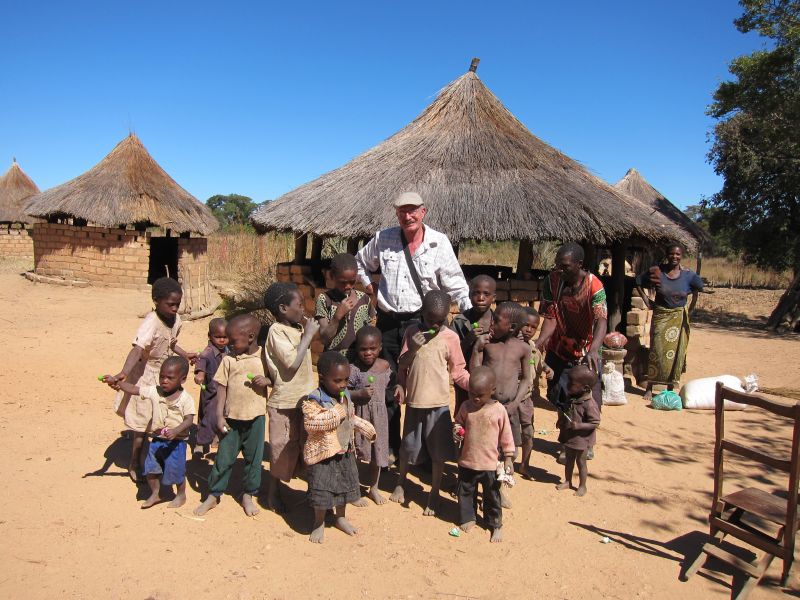 I couldn't imagine what I would do if the truck had become completely disabled so far back in the bush. As we cautiously continued I was just hoping that we could make it at least as far as the school. Otherwise, I envisioned having all the kids from the school come and try to push us. We made it back to the school where I assessed the damage. The alignment was seriously askew with the left front wheel pointing slightly outward and the passenger doors wouldn't open because the undercarriage had been pushed upwards.
I have really enjoyed driving the Pajero and it has been such a good vehicle since I bought it more than two years ago. Trusting my 'friend' we continued back to Livingstone. Luckily we made it despite the difficulty with the steering. I knew the metal work could be fixed by Joseph my panel beater whom I've used before but I was really worried about the damage which might have occurred to the front end. I called Kamia, my mechanic, early on Saturday morning and was relieved when he said he would have it fixed by noon. In the end, he did an alignment, replaced some part, and charged me K120,000 ($20.00). By the way, the cloud of vapour was just the rock sending off a cloud of dust as we backed off of it.
ON SATURDAY
As most of you know, we have a lot of musicians come to the Arts Cafe for rehearsals with Marilyn and for performances on our patio stage. On Saturday, some of the Rasta groups were having a concert from 14h00 until late and we wanted to go and support them. Daisy insisted she would be okay to look after the Arts Cafe even though we had a large group coming to see the show. After having some spaghetti and salad which I made for dinner we went to the concert around 19h00 with plans to return to the Arts Cafe before 22h00  so we could help drive staff home and lock up. We then went back to the concert and stayed another 90 minutes.
We were the only white people at the concert and as Marilyn said "it's like being among friends." They were so happy to see us and the music was great. The MC even sang a song in which he kept dropping our names into it and looking out at us as he sang. We knew so many of the band members and felt proud to be able to intermingle in such a friendly atmosphere. I will say it was more like a religious meeting and there was a lot of rapping and 'sermon' like preaching of the Rasta movement. They certainly have no qualms about calling politicians "buggers" and giving thanks for their freedom. "Better to be a hungry free man than a fat slave" is a typical lyric along with lots about Mother Africa and peace and love.
These girls below were at the show on Saturday. As often happens with adventurous guests, they end up being taken out on the town with some of our staff who are great hosts for Livingstone.
This morning we had pancakes and real maple syrup which Kayleigh brought as a gift for us from Canada.
And…..the new and only stop light in Livingstone is now working. Unfortunately, most drivers seem uncertain if it is okay to turn left on a red (remember we drive on the left) or whether it is okay to turn right on a green if the right turn signal isn't on. Some pedestrians also seem a bit confused and don't realize that the light now controls when they can walk out onto the zebra crossing and expect cars to stop.