There are so many baby baboons this time of year and it is fun to watch them playing and hitching a ride under their mom. They pass within a few feet when you meet them on a path and I'm never 100% sure who should give way…..they always do.
We used our gift certificate, which I won, and enjoyed a lovely dinner at Maramba River Lodge. The package included a three course dinner and a free bottle of wine. The lodge is located at a small inlet from the Zambezi River and there is a hippo living in the water just below the restaurant. Not something you see every day when dining.
We also got invited to Chindukwa Lodge by some friends who own it and after a lovely boat ride and viewing the sunset, we sat down with three other guests at the lodge for a lovely dinner.It is located 22km outside Livingstone on the Kasengula Road to the border with Botswana.
The boat trip took us to a sandy island in the middle of the Zambezi, then we circled the island and drove along the Zimbabwe shoreline. We saw a lot of animals and three crocodiles were sunning themselves just a few feet from us along the shore of the island. The sunset was absolutely stunning from the middle of the river.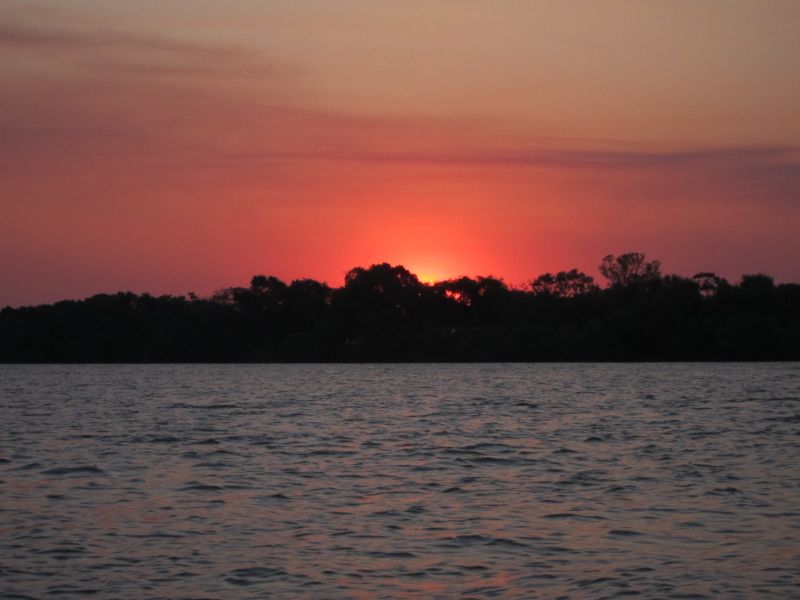 On Friday night, Jane and Faith came to our house to cook dinner for us. They were so efficient in the kitchen and we enjoyed a traditional dinner which we ate in traditional style (no utensils). Faith also brought her new boyfriend, Jeff, who works for Parliament in Lusaka. He seems like a really nice guy and we quite enjoyed his company. We love Faith a lot and were definitely looking for any signs he may not be "Mr. Right". He passed the test.
We were invited to Natasha's second birthday party on Saturday and once again ate some traditional food and took part in some cool family games. Natasha is the daughter of Grande and Anabelle and we know them because Grande is a great musician. He now plays regularly at the Fairmount Hotel but previously played every Wednesday at the Arts Cafe.
We often feel privileged to have so many connections with the local community and to be invited to their homes for functions.
We went to visit some people we know who are opening a new lodge called Sunset Junction. It has been 5 years in the making. I took this picture of some chairs being made on the grounds because you can see how they use an electric grinder to smooth out the wooden seat slats.
After a visit to Linda West Basic School where I paid school fees for our sponsored kids, I went to see my friend Allan. I've had a pair of hip waders in our house since we arrived in 2009 and wanted Allan to have them. He works on the farm where we first lived which floods during the rainy season when the Maramba River overflows so I know he will get good use out of them. He was very happy. At the school,  I also presented Stanley with a football and mosquito net which was bought as gifts by Bill and Jackie Sullivan who sponsor him in school.
We are hoping to take advantage this week of the other prizes I bid on from the Olga's fund raiser silent auction. They include a Walk with the Lions, a boat cruise on the African Queen, and Microlite flights over the Falls.