When we first started our Foundation we used a line from Margaret Mead which read "Never doubt that a small group of thoughtful committed citizens can change the world. Indeed it is the only thing that ever has."
We haven't changed the world much but have changed the lives of a few people in it. Our personal world has changed a lot. We will never view the planet in quite the same way again or the people who inhabit it in very different ways.
We have entertained thousands of tourists with our shows and music and hope, in some small way, they too have come to a better understanding of African culture, its difficulties, and the beauty of its people.
Through our Foundation we have chalked up some interesting statistics.  For example, the total amount of money which we have injected into the Livingstone economy is in excess of K900,000,000 ( $190,000.00). Add to this our own living expenses of more than $100,000.00 of the two and a half years.
The total wages we have paid to our full-time  and part-time staff is more than K336,000,000 ($75,000.00). This is a country where many people live on less than $3.00 per day. Many of our staff have been inspired to start other small businesses, most have upgraded their accommodation, and they all look so lovely and confident.
The total number of hours Marilyn and I have volunteered in Africa is more than 14,000 hours.
With staff who come and go we've employed more than 50 local citizens at one time or another. Twenty one of these worked with us for more than a year and 7 have been with us for more than two years.
Our Foundation has also helped thirty nine different students attend school. These are the vulnerable children who otherwise would not be able to attend due to the fees, uniform costs, etc. Of these, 9 have graduated to high school, 4 have graduated from high school, and 6 have been supported in post secondary education programs. Our support of schools, youth soccer teams, the disabled, and other vulnerable families has been significant.
New Show Feature
We've introduced a new feature in Dancing Around Zambia. Gift, who has been attending school but working with us in our evening shows now eats fire when he is performing as the witch doctor trying to find out who turned the tour bus into a water monitor lizard. Audiences squirm when he swallows burning coals and rubs fire over his body. Very exciting.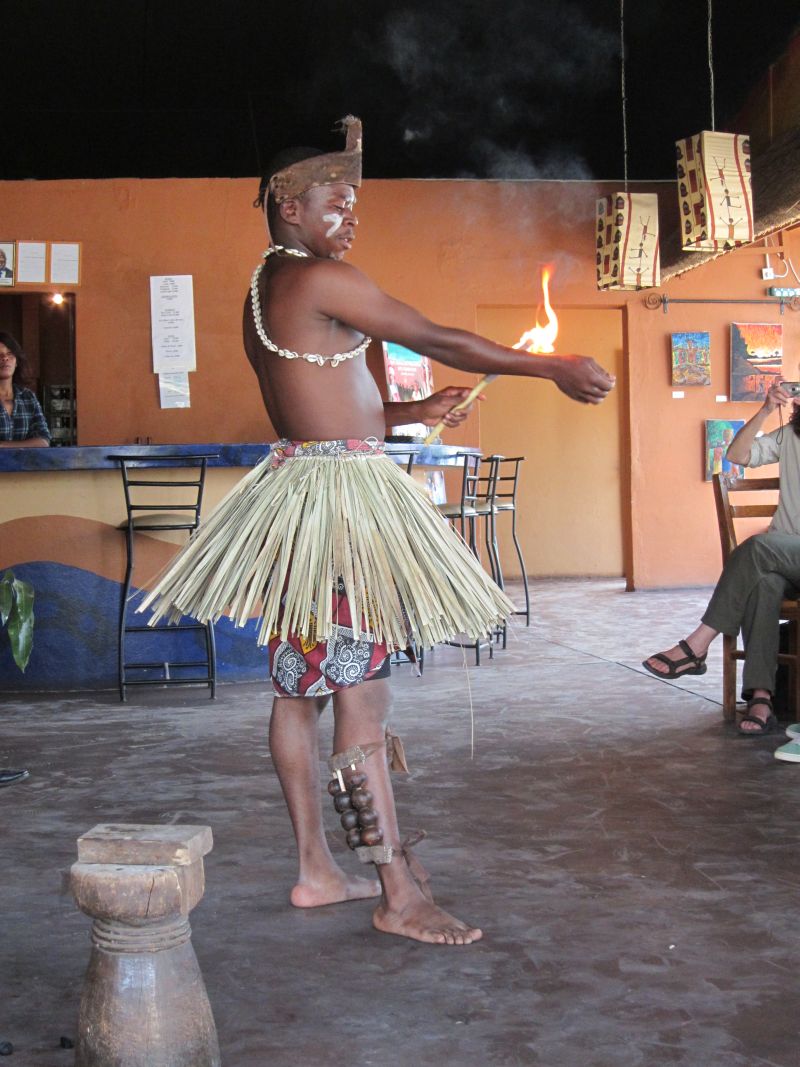 We wouldn't be able to do this on stage (indoors) in Canada.
Treating Ourselves
Marilyn and I took advantage of one of the prizes we won at the LTA fund raiser and enjoyed a three course dinner with wine at the David Livingstone Safari Lodge. We had a lovely table on the second floor balcony as we dined, watched the sun set over the Zambezi River, and enjoyed the marimba players below.
In the next few weeks we are going to use the other gift certificates for microlite flights over the falls, a walk with the lions, and another dinner at Maramba River Lodge.